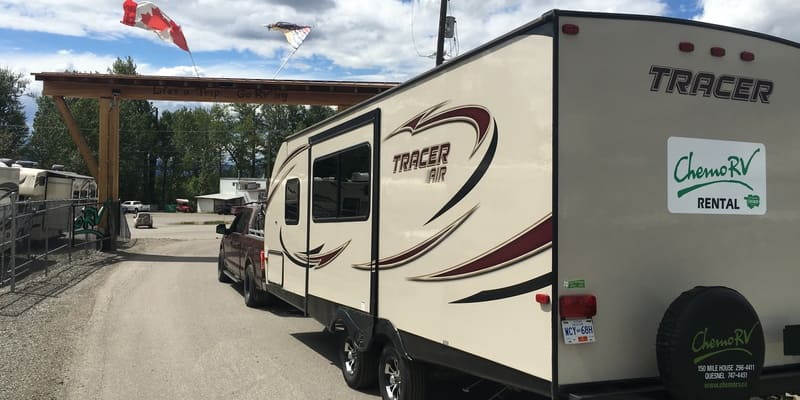 The Dealer
Whether you're in the local area and looking for a weekend RV getaway, or travelling in from afar to the Cariboo region—or perhaps just looking for an alternative to a hotel for an event—Chemo RV has a unit sure to fit your wants and needs.
Chemo RV no longer offers rentals, however they have several trailers to choose from for purchase, and all can be viewed on Chemo's website. Also, good luck in choosing—as they are all extremely nice!
The Trailer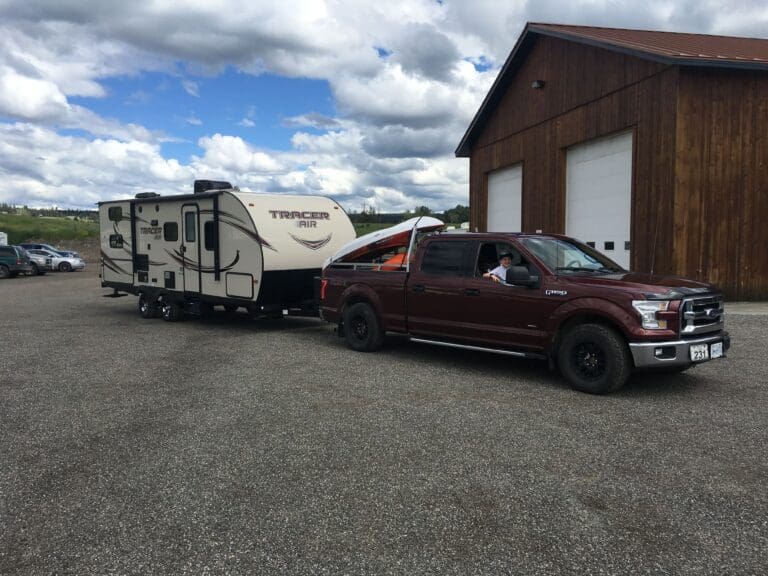 After a lot of debate with my seven-year-old son, Jax, we chose the Tracer Air 244 model for our adventure. We could come up with a bunch of reasons why (i.e. layout, weight, color etc.) but, honestly, the main feature we liked on this one was the outside kitchen feature!
This trailer has a beautiful two-burner stove that slides out on the rear curbside corner of the unit, as well as a small refrigerator and a sink.
This was important to us because we were planning on going to a destination without electricity hookups. So, running the 110V AC unit that the Tracer Air RV was equipped with was not an option, and cooking with the interior stove would make the RV very hot inside. So, the ability to cook outside was a huge selling feature for this particular unit!
Prior to pick up, I emailed the 150 Mile House dealership rental representative Shelby a copy of my driver license, address and phone number, so when I arrived at the dealership, the paperwork was all done and all I had to do was sign them!
The Chemo team already had the unit set up and ready to go. Shelby did a detailed walk around with Jax and I to go over the operation of the different features the RV had!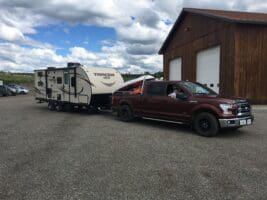 With the customer service and the vibe throughout the dealership—we couldn't help but get pumped for our adventure!
Even when pulling out of the entrance of Chemo, on the back of the archway it reads: "Life's a trip. Go RVing."
Special Features
Apart from the outside kitchen, I was blown away by the ease in which the Tracer Air RV towed!
I drive an F-150 half-ton pickup and it pulled this unit with ease! I also loved how everything was literally a push-button! The slide out, the awning and the water heater were all operated with the mere flick of a switch or push of a button.
Jax's favourite part was the bunk beds for sure; he couldn't help but feel like King of the Castle with that huge top bunk!
Although we both pride ourselves in being 'low maintenance' campers, I tell you what: that hot shower was sure dreamy after a long hot day of non-stop adventures!
Extra Notes
Chemo offers a "convenience kit" at an extra charge which includes bedding, some necessary linens, plates, bowls, cups, kettle, coffee press, and flippers, large spoons, etc.
There are a few items to ensure you should pack that aren't included. Although a small list, they are items that add big convenience to your experience!
A lighter (Bic or BBQ): The inside cooking range is equipped with an auto-igniter, but the outside is not. So, a lighter or matches are convenient for lighting the outside stove, as well as lighting the mandatory campfire to cook your s'mores.
Garbage bags: I always pack large black garbage bags! This makes it easy to keep your waste and recycling in check. Remember: a clean camp is a happy camp.
Dish soap: You're gonna need it.